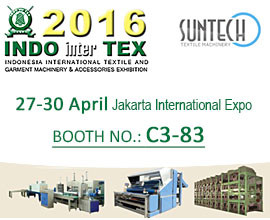 INDO INTERTEX 2016
(The 14th Indonesia International Textile and Garment Machinery & Accessories Exhibition)
Theme:"Be Ready with More Market Opportunities Ahead"
Date: 27 - 30 April 2016 (Wednesday - Saturday)
Hours:10:00 a.m to 06:00 p.m
Venue:Jakarta International Expo - Kemayoran, Jakarta- Indonesia
Who Should Participate?
Textile
Fiber-Making Machinery
Man-Made Fiber Production for Viscose, Polyester, Spinning Machinery
Yarn Machinery for Nylon, Spurn Yarn, Non-Woven Fabric Machine
Fabric Making Machinery for Woven, Knit, Winding and Reeling Machinery
Weaving Preparation and Weaving Machinery
Knitting and Hosiery Machines
Textile Testing and Measuring Equipment
Laboratory Equipment
CAD/CAM
Quality Control Equipment
Garment
Embroidery Machines and Accessories
Sewing Machines for Garment and Different Applications
Pressing Machines, Cutting Machines and Equipment
Finishing Equipment and System
Garment Testing and Measuring Equipment
Laboratory Equipment
Laundry Machinery, Ironing and Steaming Equipment
Bar Coding Machines CAD/CAM
Suntechis one of Leading designers& manufacturers on textile mchines for weaving & finishing units,especially for Fabric Make-up machine and Material Storage & Handing Equipments.
Its scope of products includes:
I . Fabric Make-up Machine:
1.Batch Winders
2.Fabric Inspection Machine
3.Fabric Rolling Machines/Batching Machines
4.Fabric Folding Machines
5.Fabric Cutting/Slitting Machines
6.Automatic Tube-Sewing Machines
7.Automatic Fabric Roll Packing Machines
II. Material Stoorage & Handing Equioments:
1.Computerized Beam Storage System
2.Electric & Hydraulic Beam Trolleys
3.Electric & Hydralic Cloth Roll Trolleys
4.All kinds of Warp Beams.