During the epidemic, China's textile industry counterattacked, "small axle library and great wisdom" solved the problem of textile machinery storage
Share
Issue Time

2021-03-23
Summary
Under the prosperous textile industry situation, textile companies that have expanded production and increased production have purchased a large number of textile machinery. The classic Suntech product "beam stacker" with "small space, large capacity, low cost and high intelligence" solves the problem of textile machinery storage.
Recently, Zhong Nanshan had a conversation with Fauci, a well-known American infectious disease expert. When talking about the future trend of the epidemic, Zhong Nanshan said: "I don't think we can eradicate this disease, but it can basically be controlled. Although it is difficult to predict, But the situation in a year will be better than it is now." Fauci also said: "Although it is impossible to completely return to normal in a year, it is currently moving towards normalization."(Click to share to LinkedIn)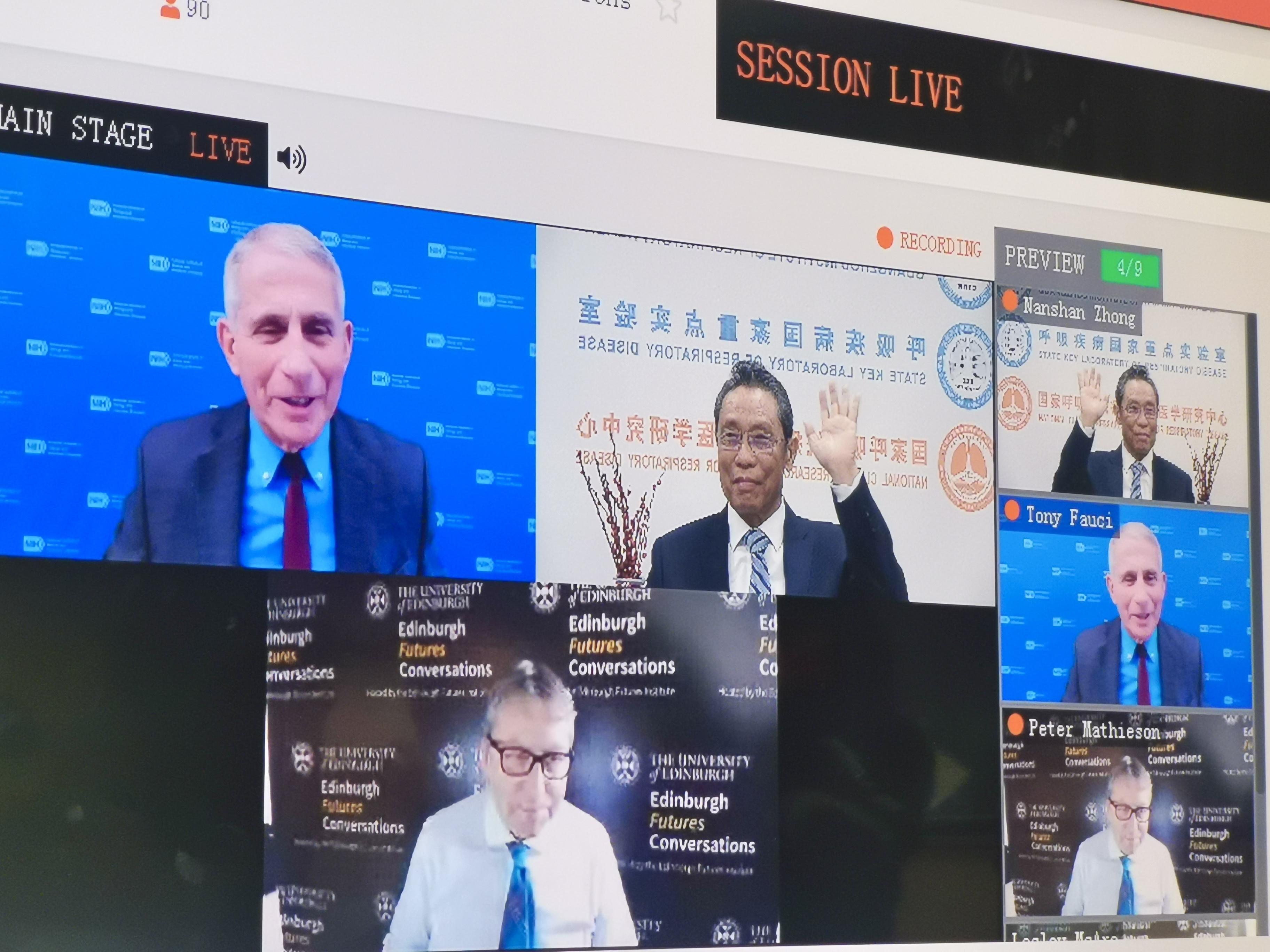 Zhong Nanshan also said: "Herd immunity cannot be achieved by making a large number of people sick. It must be based on science and vaccination to achieve this goal. Global herd immunity takes at least 2-3 years, and even more. long."
At present, the global vaccination rate is not high. Israel has the highest proportion of vaccinated population in the total population at 92.46%, over 60% in the UAE, over 30% in the United Kingdom, 22% in the United States, but only 3.56% in China. At present, the effectiveness of the vaccine still needs time to verify. When the vaccine has not been popularized and verified, people still need to wear masks to prevent pandemics.(Click to share to Facebook)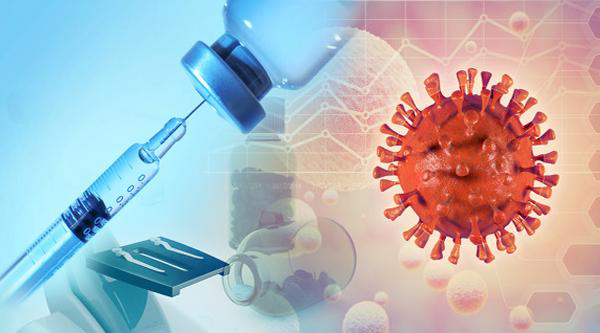 The mask is mainly composed of non-woven fabric: two layers of spunbonded non-woven fabric and one layer of meltblown fabric. The rising demand for masks has led to the continuous release of demand for non-woven fabrics, which indirectly stimulated the development of the textile industry.
The textile industry survey report of the Qianzhan Industry Research Institute shows that China has emerged from the epidemic in early 2020 and has resumed work, while European and American countries have been plagued by the epidemic. Therefore, many textile manufacturing orders have flocked to China, and the textile industry has benefited greatly in the short term rise. For some time to come, the industry's development prospects are still good. However, in the medium and long term, if the industry wants to maintain long-term development, it must further develop its high technology content, high product added value, and wide application fields. Perhaps "intelligent manufacturing" is the way out for the steady development of the textile industry.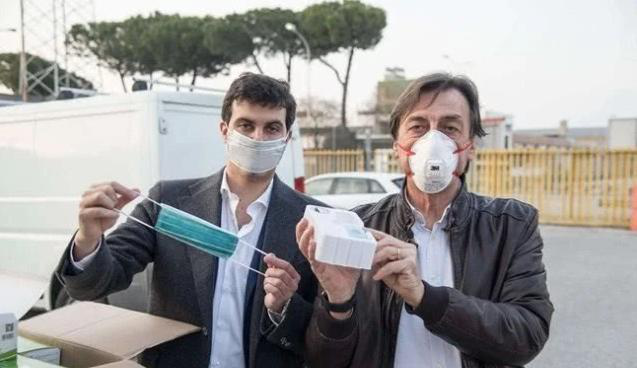 Textile output
In the first three quarters of 2020, China's industrial textile industry continues to maintain a medium-to-high-speed development. The output of non-woven fabrics of enterprises above designated size reached 4,275,900 tons, a year-on-year increase of 14.03%; the output of cord fabrics was 439,500 tons, a year-on-year decrease of 12.43%.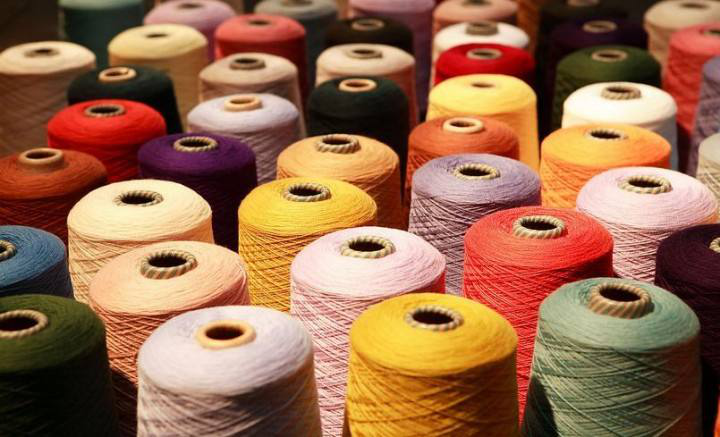 Textile exports
In 2019, China exported 27.344 billion US dollars of industrial textiles, a year-on-year increase of 2.06%, and the growth rate has slowed down compared with 2018. In the first three quarters of 2020, the industry exported 20.411 billion US dollars of technical textiles. Among the main products, the export of non-woven fabrics was 767,800 tons, an increase of 8.01% year-on-year; the value of US$2.287 billion, an increase of 6.17% year-on-year, shows that the global market for non-woven fabrics is still strong.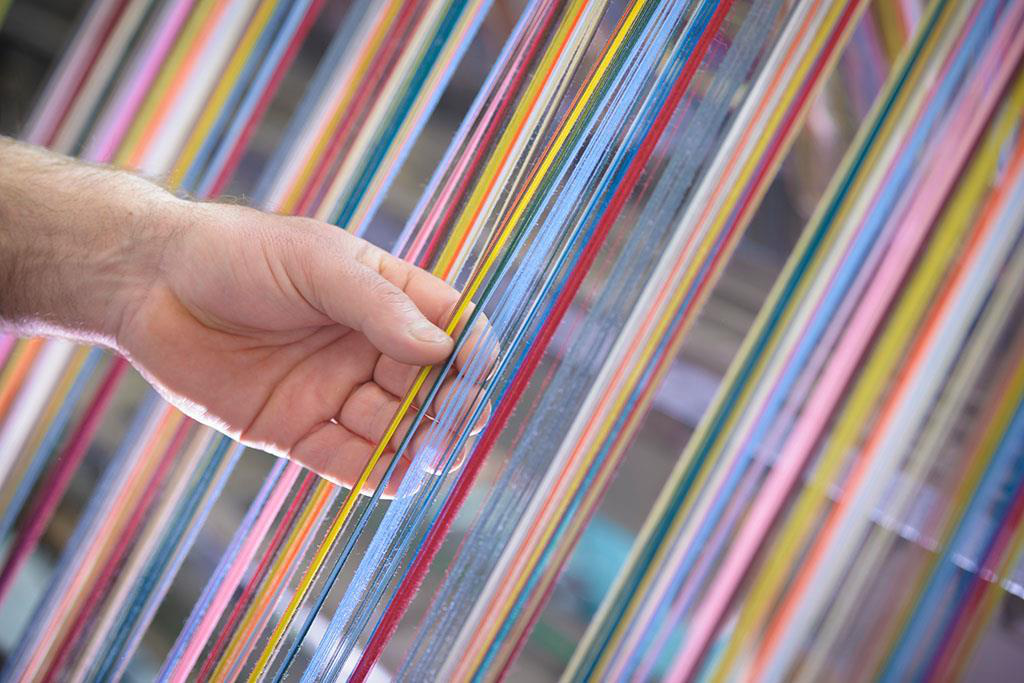 Economic Benefits of Textile Industry
In 2019, the total profit of China's industrial textile industry was 11.879 billion yuan, a decrease of 4.27% year-on-year. The industry's average profit margin was 5.9%, a year-on-year decrease of 0.3 percentage points. The total profit in the first three quarters of 2020 was 28.568 billion yuan, a year-on-year increase of 240.07%.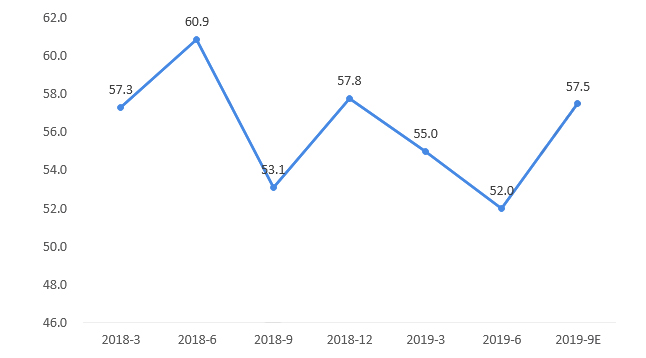 (China Textile Industry Prosperity Index)
According to the National Bureau of Statistics, in 2019, enterprises above designated size (non-full scale) in the industrial textile industry achieved operating income of 235.93 billion yuan, a year-on-year increase of 1.18%; the operating income of enterprises above designated size in the industry in the first three quarters of 2020 was 232.303 billion yuan. A year-on-year increase of 32.95%.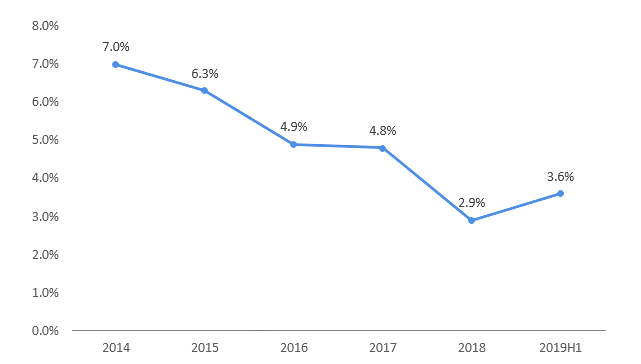 (Industrial added value of enterprises above designated size in the textile industry increased by% year-on-year)
Economic benefits of various sub-fields of textile
In terms of segmentation, the nonwovens industry continues to maintain a good momentum of development, with operating income and total profit reaching 128.791 billion yuan and 19.774 billion yuan, respectively. The 15.35% operating profit rate is the highest in the industry, an increase of 10.66 percentage points from the same period in 2019. .
Due to the recovery of downstream markets such as clothing and automobiles, and the flow of a large number of textile orders from Southeast Asia to the country, although the operating income and total profit of textile belts and cord fabrics decreased by 14.75% and 23.18% year-on-year, the decline is gradually narrowing.
Affected by the epidemic, the operating income and total profit of other industrial textiles where medical and health, filtration, and geotextiles are located increased by 36.33% and 189.92%, respectively, and the operating profit rate reached 12.58%, continuing to maintain a relatively high level.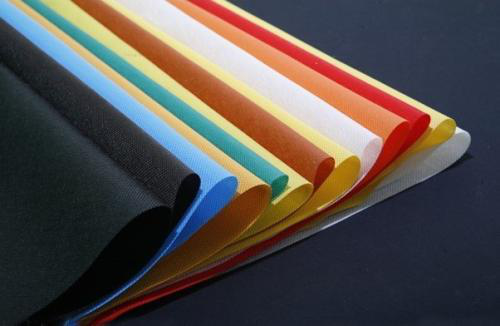 Development of textile machinery industry
The development of the textile industry is inseparable from textile machinery. Textile machinery refers to the general term for various machinery and equipment required to process natural or chemical fibers into textiles in all aspects of the textile process. Textile machinery is the basis for the transformation and innovation of my country's textile industry, the key to the transformation of my country's textile industry from labor-intensive to technology-intensive, and an important cornerstone for my country's development from a major textile country to a textile power.
In the main textile process, spinning machinery first spins various natural fibers and chemical fibers into yarn, weaving machinery weaves the yarn into cloth, then printing and dyeing machinery dyes and finishes the cloth, and finally uses clothing machinery to make the fabric into clothing .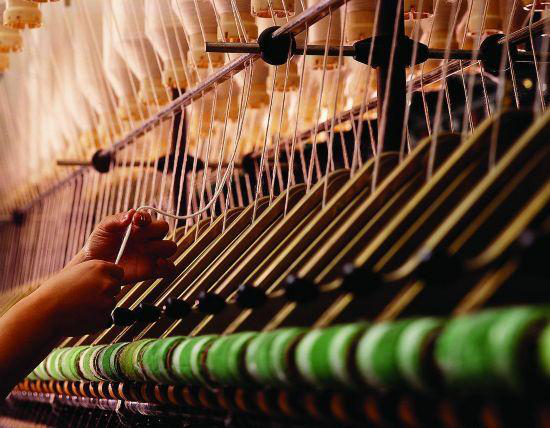 According to statistics from China Textile Machinery Association, in 2018, the total assets of my country's textile machinery industry were 101.796 billion yuan, a year-on-year increase of 6.55%. Main business income was 91.169 billion yuan, a year-on-year increase of 8.82%; total profits reached 6.833 billion yuan, a year-on-year increase of 5.12%.
Since 2018, the textile machinery industry has deeply promoted industrial upgrading, and has made various degrees of progress in new high-efficiency, low energy consumption, flexibility, automation, digitalization, and intelligence. Technological innovation and structural adjustment have supported the stable growth of the industry. . Since 2019, the overall operation quality and efficiency have been good, and the industry operation growth rate has rebounded. From January to March 2019, enterprises above designated size in the textile machinery industry achieved operating income of 22.982 billion yuan, an increase of 14.57% over the same period; total assets of 102.501 billion Yuan, an increase of 8.56% compared to the same period in 2018.(try Suntech ST-BS beam stacker)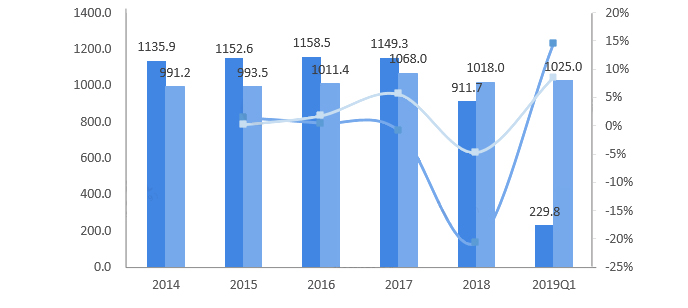 (The growth in revenue and total assets of enterprises above designated size in the textile machinery industry)
Under the influence of textile companies' active overseas investment, the growth rate of textile machinery exports in the first quarter of 2019 continued the growth trend of 2018. From January to March 2019, a total of US$902 million of textile machinery was exported to 170 countries and regions, an increase of 1.58% compared to the same period in 2018. The total value of exports to India, Vietnam, Bangladesh, Uzbekistan and Indonesia accounts for 56.47% of the total export value, and it is the main country and region of my country's textile machinery export. Affected by industrial transfer, Uzbekistan and Vietnam's export value increased significantly. The export value to Uzbekistan ranks among the top five textile machinery exports for the first time.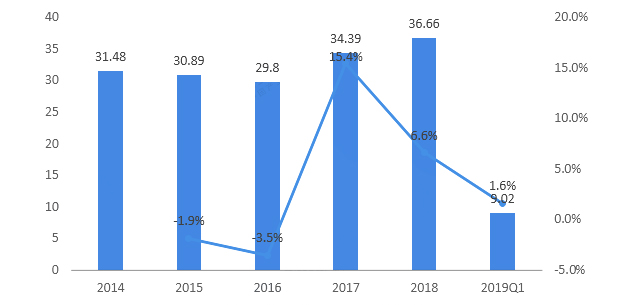 (The growth of China's textile machinery exports)
In terms of product categories, the export value of knitting machinery in 2018 was 956 million US dollars, a decrease of 8.24% compared with the previous year, accounting for 26.08%, ranking first, followed by finishing machinery, auxiliary devices and parts, Spinning machinery, weaving machinery, chemical fiber machinery and non-woven machinery, seven categories of products, except for knitting machinery, all grew, and chemical fiber machinery grew significantly.
It can be seen that with the vigorous development of China's textile industry in the future, the demand for the textile machinery industry will also increase. Today, China is not only the world's largest manufacturing country, but also a "intelligent manufacturing" country that has the courage to innovate and export technology. At the same time as the world, Chinese intelligent machinery is also going to the world.
With 50 years of technology precipitation and design experience, the old Chinese textile machinery company Suntech has developed and produced a variety of smart devices that have been verified by the market and time with the standard of "precision and intelligent manufacturing" and the purpose of "making the world fall in love with China." Cloth machines, packaging machines, cloth guides, cloth loosening machines, cloth cutting machines and other textile machinery, electric and hydraulic upper axle cars, electric and hydraulic cloth roll transporters, warp beams, beam stackers and other intelligent storage equipment, mask machines , Meltblown machine, Spunmelt non-woven fabric machine, Spunbond non-woven fabric machine, Wet wipe machine, Diaper machine, Sanitary napkin machine and other health intelligent equipment.
Under the prosperous textile industry, the demand of textile companies to expand production and increase production has prompted them to purchase a large number of textile machinery. Among them, textile warp beams are indispensable. A large number of textile warp beams are piled up in warehouses, which not only affects textile production, but also takes up space. , Causing unnecessary production troubles and storage costs. In order to solve the storage problem of textile machinery, Suntch intelligent "beam stacker" came into being.
What is beam stacker?
The beam stacker is the best choice for storing warp beams, pulp beams, weaving beams, and cloth rolls. It is widely used in pre-weaving preparations, weaving mills, dyeing and finishing plants. It is an effective use of space for textile mills, reducing land occupation and increasing reserves. Efficient access, ideal equipment to realize modern and intelligent management. It is similar to a large shelf or a three-dimensional intelligent garage, small space creates large capacity, and intelligent mode provides convenience for mechanical scheduling, maximizes floor space savings, and greatly saves storage costs.
More than ten years ago, SUNTECH was already one of the few axle library manufacturers, with many axle library patents, and the "axle library" sold overseas was favored by international textile companies. Cutting-edge technological revolution, after more than ten years of technological innovation, today's Suntech beam stacker is smarter and closer to the people.
Suntech smart beam stacker uses brand-selected materials and advanced beam stacker design technology. After 50 years of technical polishing and functional optimization, it has more than 4,500 customers and 15,000 machine installation cases around the world, with excellent quality assurance and thoughtfulness The after-sales service (overseas technical support, 12-month warranty period) has won a lot of praise from customers, and the return rate is extremely high.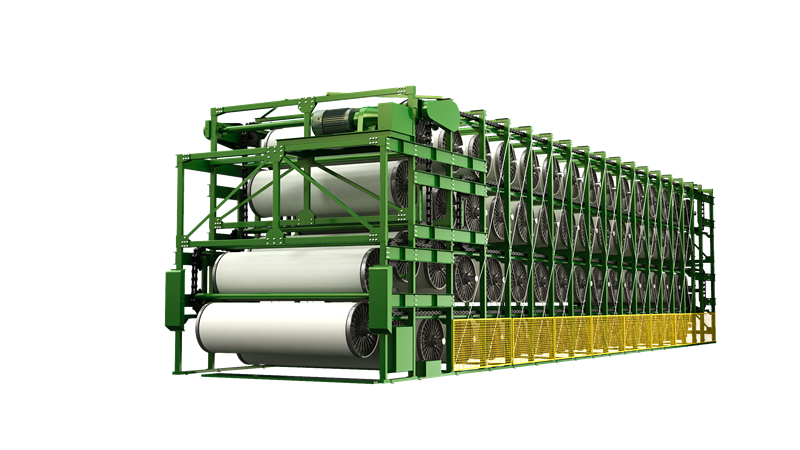 Suntech's old customer, ORTA ANADOLU ENIM, is a well-known local textile multinational company in Turkey. Its textile products are spread all over the world, and it is a senior partner of many well-known brands. Due to the large scale of the company's textile production, textile equipment such as warp beams occupies most of the warehouse space for many years, and it even needs to rent several warehouses separately for storage of equipment. Equipment scheduling is difficult, which seriously affects the operation of production and increases storage costs.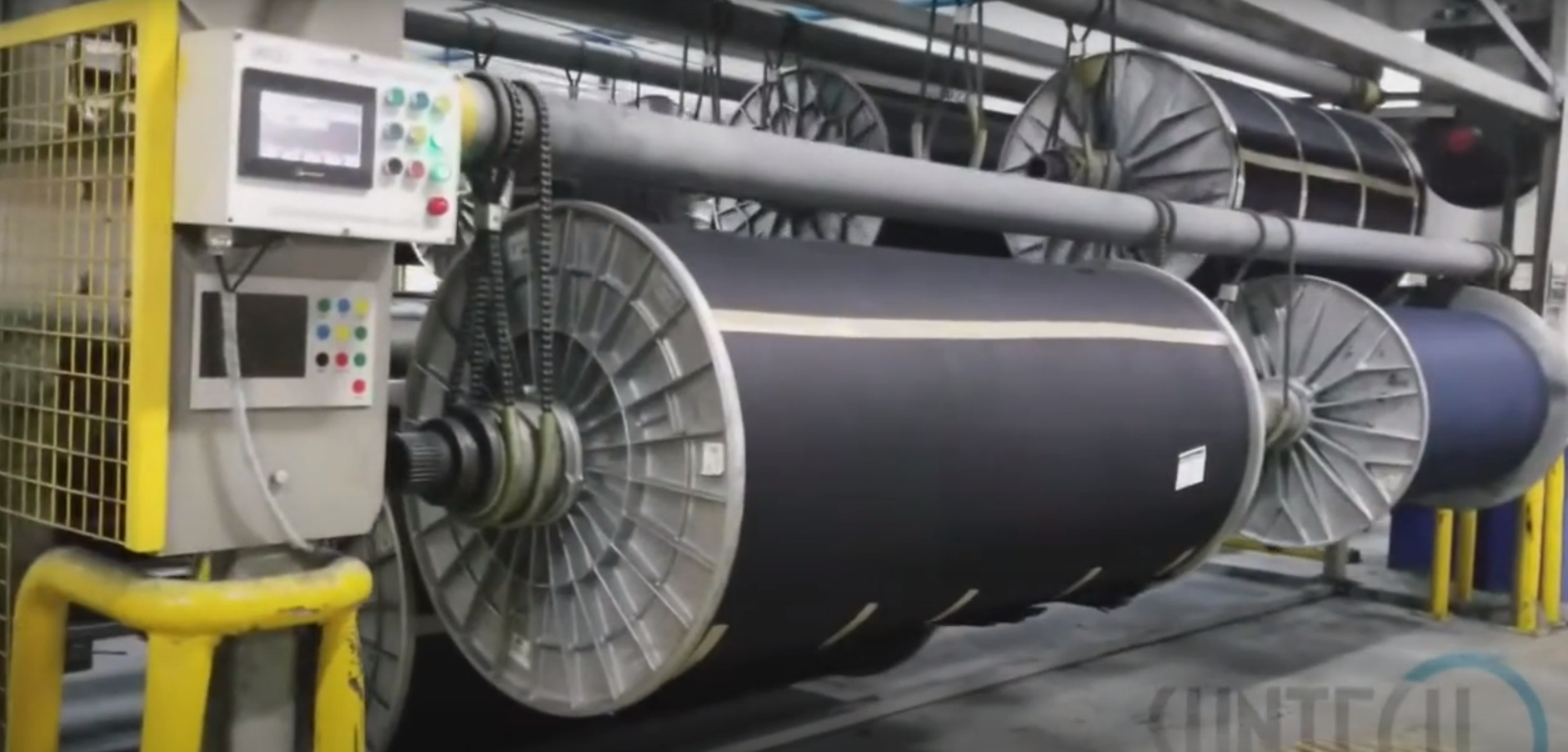 In 2015, the company expanded its production scale. The existing warehouses could no longer store all the machinery and equipment, and there were no free warehouses nearby to rent out. If the entire relocation to a more remote warehouse would be very time-consuming and labor-intensive, the legitimate engineer Mr. Taner was unable to do anything. At the time, he learned from the Bahrain branch that Suntech can produce a product that solves the storage problem-axis warehouse. If you have a beam stacker, you will not only need to expand the warehouse, but also save part of the warehouse space for production.
Mr. Taner immediately sent an email inquiry. After 2 months of communication and plan confirmation, the order was confirmed soon, but they were very worried about the installation and use of beam stacker. Suntech promised a 13-month warranty period and sent overseas support engineers. Suntech engineers completed the installation and commissioning of the beam stacker on the day the beam stacker arrived, and taught customers how to use and maintain the beam stacker. The customer's service to the shaft library and Suntech are all Very satisfied.
After beam stacker has been running for a period of time, it has greatly improved the customer's equipment scheduling efficiency. In order to express his gratitude, Mr. Taner specially recorded a promotional video. After this promotional video was uploaded to yotube, it had an explosive effect. After watching the video, many companies came to Suntech to order the shaft library.
ORTA ANADOLU ENIM video for thanks
After that, Mr. Omer, the production manager of ORTA, went to TAYTESK in Algeria and DNM DENIM in Egypt as production manager in 2016 and 2019. During his tenure, he encountered storage expansion and mechanical scheduling problems, so he went to here again. The two companies recommended the purchase of Suntech's beam stacker.
Suntech's classic product "beam stacker" with "small space, large capacity, low cost and high intelligence", please inquire for details.