2017 Spring Summer Fabric trends
Share
publisher

Young
Issue Time

2016-06-12
Summary
2017 Trend Forecasting for Fabric Industrial.
Living in this fast-paced world, everything is changing in every minute. Merging generations, genders, materials, digital and craft, reality and fantasy... in an exciting new ambivalence to energise Spring-Summer 2017.
Theme 1--Digital Native
A playful spirit, both childlike and adult, reminds us of the optimism of the 60s and introduces a new and contemporary multifaceted digital-native generation.
Colors
A palette of clean, smart and sharp modulated pastels referencing the codes of childhood and romanticism paired with the luminous tones of LED lights and video screens.

Fabrics
Unconventional romantic elements -- lace, tulle, voiles -- blend with translucent high-tech synthetics in simple and clean styles for a modern approach.
The vivid light is used as a form of art for expressive iridescent shadow prints.
A pop couture spirit dares transparent plastics, lacquered, gellified, glossy coatings, reflective surfaces.
Delicate sparkling floral gardens and fefined glassworks transfer a sense of freshness.
Liquid fluid jersey, micro-textured reliefs, fine crispy cloques, movin mat/shiny geometrics, pixelated effects, opalescent bubbles, polyester perforated fabrics and meshes, and new synthetics including nylon.
Digital simulations shape immaterial forms.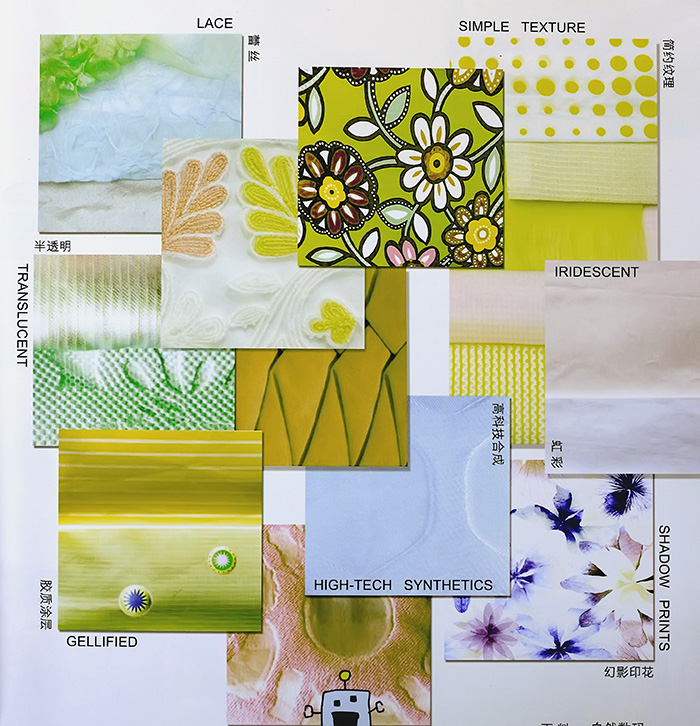 Theme 2--Street Generation
Exuberance champions excess to create the exceptional. Audacity and sophistication brighten up the urban wardrobe and serve indulgent holidays.
Colors

A luxuriant color range, alternating bright tones and intensive darks, illustrating the fabulous atmosphere of tropical gardens.

Fabrics
Abundance of high stretch satins, dense silky fluid fabrics, crepes and glamorous chiffons.
Decorative, precious, unique weaves, brocades and artful embroideries play with this rich palette.
The fantastic flora and fauna of this exotic Eden dares lush prints and patterns.
Graphic patterns create a collage of cultural motifs, while inverted digital prints add a sence of street newness and a multicultural spirit.
Craft-like inspiration, basketry, double-weaves, fil-coupe, design functionality, and performance sporting fabrics.
Compact performing utility cotton fabrics and denim re-shape outdoor wear, high functional fabrics, and sportive tricot.
The melting pot inputs inspire a crafted " exotic chic " style.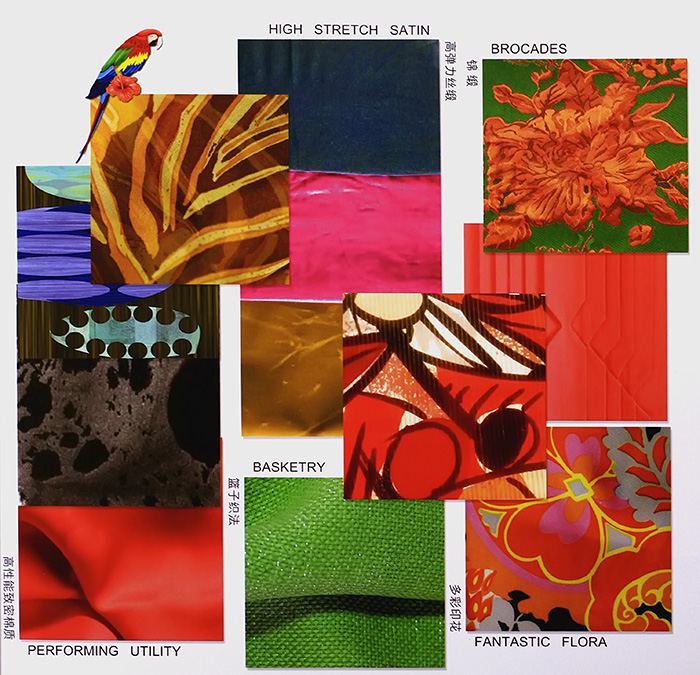 Theme 3--Gender Profile
Adding new layers to natural aesthetics, this collaged style gives voice to mixing Art and Craft, elegance and smart casual.
Colors
Explorers discover the understated beauty of natual tones and faded mid tones of dried landscapes and safari reminiscences.
Fabrics
Finely rustic linen, coarser canvas and textured and creased surfaces affect a dry touch.
Afro-chic masks and redesigned camouflage combine wild and contemporary.
Animal skin motifs metamorphose into abstract jacquards and prints.
Chic batik, herbalist prints and double weaves combine with delicate natural fibres--bamboo, pineapple, linen, hemp, organic cotton, raw silk-- complying with sustainability.
Washed, stoned, faded and bleached aspects stay rustic but chic.
Laces like tribal tattoos. Crocheted decorations. Leather and suede. Sheer fabrics and crepe.
Elegantly functional safari look.