Share
Issue Time

2016-04-29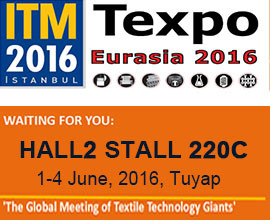 ITM 2016 International Textile Machinery Exhibition and concurrently being held Hightex 2016, International Technical Textile & Nonwoven Trade Fair, from June 1-4.
in Turkey, are expected to attract 1200 exhibitors and more than 60.000 visitors from 72 countries.The latest textile machinery and technologies will be presented at ITM 2016.
An increased number of visitors from Europe and Asia, particularly Iran and countries, are expected for the ITM 2016.At Hightex 2016, the 6th of its kind, raw materials for technical textiles, intermediary and final products and production technologies will be seen together.
With the increasing importance of Turkey in textile and apparel, ITM 2016 has grown 55 per cent compared to its 2015 edition and has generated a worldwide interest.ITM 2016 and Hightex 2016, in partnership with Tuyap and Teknik Fuarcilik, will be the largest gathering for textile technologies in Turkey.